Italy's Giancarlo Zema Design Group, EHang looking to build eco-sustainable vertiport in Maldives
Italian architecture firm Giancarlo Zema Design Group (GZDG) and world's leading autonomous aerial vehicle company EHang, who are building their first eco-sustainable vertiport in Italy, have expressed interest in replicating their designs in Maldives, pending approval from government authorities.
According to Vittorio Coco, the sole agent for GZDG in Maldives and Sri Lanka, who is based in AA. Rasdhoo, both GZDG and EHang are keen on focusing on exploring use-cases of remotely piloted aerial tourism in resorts, local islands and marine protected areas in Maldives.
They also plan on integrating vertiports into their own Palm Island Resort project, and can also integrate vertiports into existing infrastructure to build fully independent plug-and-play infrastructures to monitor flights and conduct on the spot recharge of the EHang 216-passenger drone taxis, said Coco, who was recently appointed Blue Economy Desk Coordinator by AA. Atoll Council.
GZDG is an innovative architecture firm which specializes in smart eco-sustainable projects, semi submerged architectural structures, floating habitats, yacht and interior design.
Giancarlo Zema came up with the design for an ecofriendly tower with a steel and laminated wood structure, a trendy café, and a 200 square meter panoramic restaurant after drawing inspiration from the native African tree Baobab. The take off-and-landing platform will be set on the roof terrace. The vertiport is built with non-slip photovoltaic panels that can generate over 300 KW of electric power per day.
"The idea is to launch the first air tourist experience built directly into eco-sustainable resorts to offer guests an ocean environment vista from above the sea level of the beautiful Maldivian atolls," said Coco.
EHang has already obtained flight permits for tourism in China and has initiated flight certification procedures in Europe.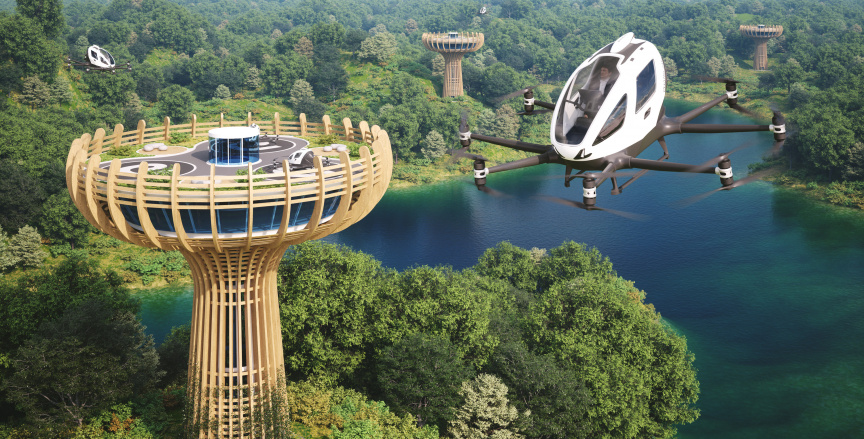 GZDG is integrating the Baobab design into their own Palm Village eco-resort project to offer new resort projects an integrated logistic for air service by drones, believing in a future where drones may be used to transport passengers between the atolls and from the airports to resorts.
Palm Village is a new concept of hospitality on the water. According to Coco, the Palm Village designed by GZDG is an innovative and poetic resort for Maldives, inspired by forms of nature.
Full details are available at the link below:
Source URL: SUN MV