Housing Development Corporation – Concept of a Smart City in Hulhumalé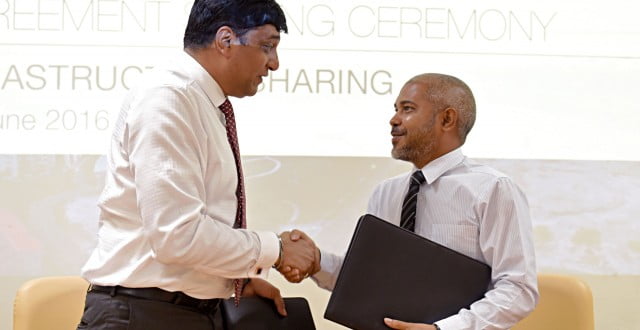 The agreement was signed by Managing Director of HDC Mohamed Saiman and Ooredoo Maldives CEO Vikram Sinha, at a ceremony held in HDC headquarters earlier today.
Under this partnership, Ooredoo will be establishing an optic fiber network across Hulhumalé, which will pave way for the easy installation and use of CCTV cameras throughout, making Hulhumalé a safe and sound city for the citizens.
In addition, Ooredoo will also be introducing WiFi solutions in public areas of the city, including Leisure Zone of Central Park of Hulhumalé.
HDC's Managing Director Mohamed Saiman said that HDC promotes the government's vision of a Smart City in Hulhumalé – the City of Hope. He further stated that with Ooredoo as one of HDC's partners in this new exciting venture, will ensure that the development of the smart city concept will enable citizens and visitors of Hulhumalé to enjoy the best of what technology has to offer.
Ooredoo Maldives CEO Vikram Sinha highlighted Ooredoo's commitment in providing support to the government's initiative of a Smart City in Hulhumalé, which will enrich lives across rural communities, providing the citizens with innovative and beneficial smart technologies.
The ceremony was attended by the management team, and officials of both HDC and Ooredoo Maldives.
Source: hdc.com.mv